Kindness in Keyingham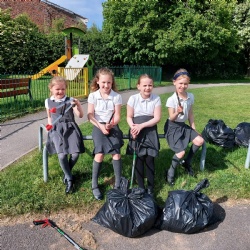 We were delighted to hear more news of our #KeyinghamKids demonstrating our school value of kindness out in the local community! We received this email from their Mums and wanted to share it with you all. The girls got a well-deserved mention in today's celebration assembly today too!
"Just wanted to share a good story with you about some Keyingham kids! Today after school, Ella Dean (Y5), Isabelle Clark (Y5), Nancy Clark (Y4) and Isabelle Dean (Y1) all went litter picking around Keyingham. Starting on the playing field next to the school they travelled up towards Co-op, round to the Church, through to Shandu's to then make their way back round to the school grounds. The girls managed to collect 2 bags of rubbish and enjoyed it thoroughly.
Not stopping there, they have chosen to tackle Thorngumbald on another nice evening. We wanted to share some pictures with you to so you can see what a great job they did! 😊"
We all agree! Well done girls!