Kindness: IN ACTION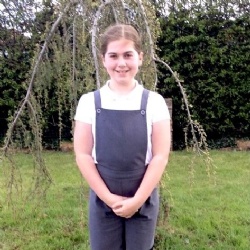 We thought you would all like to hear (directly from one of our pupils) about how the #keyinghamkids put our school values in to practice outside the classroom too! Read on to learn about Maddie's latest project...
I have decided to raise money for Macmillan Cancer Support. I chose to do this because some of my family members have suffered from cancer: my grandad sadly died from it and one of my aunties has happily recovered. I also wanted to do this because, from experience, I understand what it is like when your relative has had the disease and how upsetting it is.
My objective is to walk (but I might be doing skipping, jogging, etc.) one mile a day in May. Some days I'll walk around my village, or go to Withernsea and walk along the beach/promenade. I have already started- as it is May now- and I am really enjoying it. There can be rough days, when it is pouring down with rain, however I still have to do the walk, since I've committed to it.
So far, I have raised £385, with the help of family and friends. I am really happy with what I've done and am really thankful of how much support I'm getting.
Some days, on my walk, I will go with different family members: one day with my grandma, another with my cousin and anybody else that I know! We get our own Macmillan T-shirt to wear on our walk and it makes me feel really proud to know that I'm doing good things, that will help lots of families.
A huge thank you to anyone that has donated!
Maddie Croft (Year 5)