End of Term Update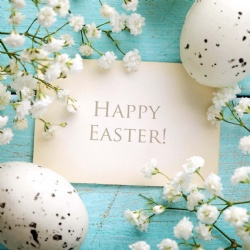 Welcome to our end of term update! There are several key pieces of information to share with you before the start of the new term. Unfortunately, I have been working from home this week due to COVID and have not been able to record my usual video. Instead, I have listed the key points below so that you can refer back over the Easter break if you wish.
As ever, the most important thing to say is THANK YOU! Thanks to the children, the staff and yourselves for your hard work and support throughout what has been a difficult term. We are looking forward to the summer term and being able to return to opening our doors to our school community to celebrate our learning and successes. More details below...
Have a great Easter together and we look forward to welcoming you all back on Monday 25 April.
Mrs White
Summer Calendar of Learning and Events:
Attached below is a calendar of the summer term (so far) for your information. We will be adding dates for Sports Day in due course after we have liaised with our local high schools.
The Queen's Platinum Jubilee:
The week of 23 May, we will be celebrating with a range of learning and activities. We are meeting with our Student Council in the first week back to go over some ideas and suggestions but we hope that it will include a parent session in classes and a celebration picnic for everyone on the field at the end of the week.
KS2 End of Year Show:
Over the past 2 years we have been unable to welcome many external providers in to school to broaden the children's curriculum opportunities. As restrictions end, we have secured the services of a performing arts company who will be running PPA sessions every week for Years 3, 4, 5 & 6 throughout the summer term. Their work will culminate in a Summer Show for all the children, staff and parents to enjoy. We will update you with dates of the performances soon.
Enrichment Opportunities:
We were delighted to be able to discuss the return of lunch clubs with the children last week! They gave us so many ideas: multi-sports, Forest Club, Lego, coding, arts & crafts, choirs, TT Rockstars ... the list goes on! During the first week back, we will ask the children to put their names down for the clubs they are interested in and they will start in the second week. We will send out more information after the Easter break.
We are also exploring working with an external music lesson company: In-School Rock & Pop Band Lessons | Rocksteady Music School. We are waiting to speak with the company directly and if you are interested in your child accessing this kind of resource, we will send out a form to register your interest next term.
Summer Assessments and Reports:
There will be a final 'snapshot' report issued (as you can see on the calendar) in July and this will be followed by a parent's evening - we plan on this being a face to face event!
The Friends of Keyingham Primary School:
If you are interested in working with our Friends of School group to help us bring back things like discos and school fairs etc - please let us know via the Gateway app.
Homework Review:
During the Summer Term, we will be running a pupil and parent consultation regarding our homework provision. Our current guidance can be found on the website here. We will be in touch again soon to discuss and review this further.
Governor Parent Voice Sessions:
Following our recent Parent Survey, our Governing Body will be holding an open evening to encourage parents to come in and air their views openly and constructively. We will send the dates and times out after the Easter break.
Summer Term School Uniform:
As the Summer term starts, we welcome the return of blue gingham dresses and more shorts on the playground and in our classrooms! If you are unsure of any elements of the school uniform, the policy can be found here. I also now ask that the children wear only uniform to school and not the extra jumpers/hoodies that they have worn during the colder months.