Headteacher Update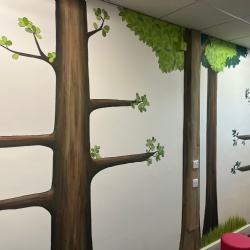 Good afternoon everyone! Rather than a picture of me, I thought you would all prefer to see the finished Library artwork that we have had done this week!
We will do a big reveal with before and after pictures for you as soon as we can and the children are excited to be getting back in to the Library next week too.
I hope you enjoy reading the class blogs this week - they can be accessed here.
There are just a few things to note for next week:
Class photos are next Friday
We have had to move Forest School and PE days around due to staffing so please send kit in at the beginning of the week.
We are collecting for Bags to School next week. Please leave any donations under the bike shelter on the way to the School Office on Monday, Tuesday or Wednesday morning next week.
Thank you and have a lovely weekend together!
Mrs White