14/01/2022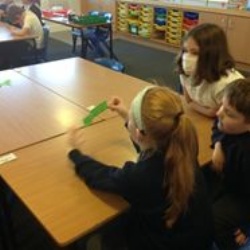 This week in Year 3, we have been reading 'Code Name Bananas' by David Walliams. Eric has now made friends with Gertrude the Gorilla, who lives in the zoo. He has taught her how to blow raspberries. One night, Regent's Park and a lot of London were bombed and Gertrude got scared and escaped out of her cage.
This week in Year 3, we have been learning calculations that relate to each other. We have also learned about the seven major world religions. We have found out who founded Christianity and Islam and where they were founded. We discovered that Humanism is another major world religion. In reading, we have been learning about the different cloud types – Stratus, Cummulus and Cirrus. In Maths, we have been multiplying 2 digit numbers by 1 digit. It has been a week of challenges, things being just right and some things being easy, lemon, squeezy.
Next week in Year 3, we will be asking questions about Keyingham and the land around like, 'Why is there a lot of farm land around Keyingham?', 'What symbols can we find on an OS map of Keyingham?' and 'What physical and human features are there in Keyingham?'.