18/02/2022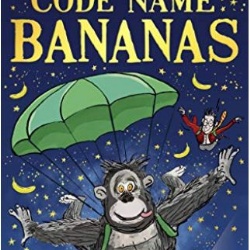 [15:41] Debbie Walker
This week in Year 3, we have nearly finished reading 'Code Name Bananas' by David Walliams. Eric, Sid and Gertrude discovered what the 'Brown' sisters were up to. It was a plot to kill Winston Churchill. They managed to avoid being poisoned and escaped by the skin of their teeth but ran straight into the arms of Frown, Batter and Gnarl. In order to avoid capture by both parties, they headed for the beach, in the middle of a storm. Whilst on the beach a German U-boat surfaced and the 'Brown' sisters caught up with Eric, Sid and Gertrude, who they took prisoner. They were made to row out to the U-boat and were taken captive inside.
This week in Year 3, we have been learning about the impact WW2 had on Keyingham. We took part in some research activities and found out lots of interesting things like … older boys would a half penny on the railway line in the hope that the coming train would squash into a full penny size. We learned that children played games the same as we do today but also went exploring the ditches and fields for newts and sticklebacks. We also made carrot lollies – at treat in the war due to rationing and an excess of carrots!! We also used Now Press Play to find out about what it was like to be an evacuee.
Next half term in Year 3, we will be asking questions like 'Why is Keyingham a village and Hull is a city?' and 'What was the impact of the Blitz on Hull?'
Hope you all have a lovely, safe and enjoyable half term.