04/02/2022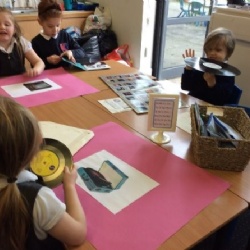 This week in year 1, we have continued to find out just how horrid Mr. & Mrs Twit are but it didn't end nicely for them because they were so horrid!
This week in Year 1 we have been learning to spell words with the ay grapheme. In maths, we have been finding related facts (14 + 5 = 19 5 + 14 = 19 19 – 5 = 14 19 – 14 = 5) and that when we subtract we always start with the largest number. In Forest School, we have learnt about weaving and we used natural materials to weave with, such as wool and leaves. In history, we have looked at many old objects. We tried to guess what they were and some of us thought that a CD Walkman was a remote-controlled vacuum cleaner. We also leant that Mrs Lawson is very old because she brought in records and cassettes that she used to listen to.
Next week in Year 1 we will be asking: How do you keep safe online?
It has been lovely to be back this week, the children have worked very hard and learnt a lot of new things.