21/01/2022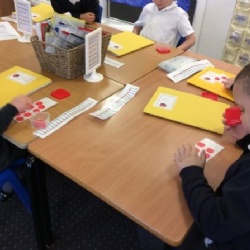 This week in year 1, we have continued to read and follow the mad adventures of Winnie the Witch in Winnie's Big Catch by Laura Owen and Korky Paul.
This week in Year 1 we have been learning to spell words with the ai grapheme. In maths, we have been learning to subtract by using manipulatives (ten frames, counters, number lines and games). In Forest School, we have learnt the names of common winter birds such as the Robin, House Sparrow, Magpie, Blackbird and Seagulls and looked for them outside. We have also learnt that the most popular everyday materials were cardboard and plastic and we have been thinking of what we can do with them.
Next week in Year 1 we will be asking: Which everyday material would be the most useful for Incey Wincey Spider?
Thank you very much to everyone who collected and sent in everyday materials, it has really helped us to deliver our Science curriculum.