04/02/2022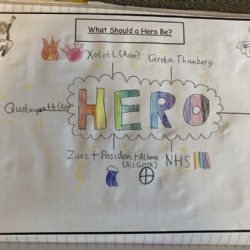 This week in Year 4, we have been reading Awful Auntie by David Walliams.
This week in Year 4, we have been learning how to write a newspaper article. We have used the silhouettes in the village as a stimulus. In MFL, we have learned the French words for some animals and have tried to read a simple story in French. In RE, we have talked about who our heroes are and the characteristics a hero needs to have. In PE, we have been doing dance. In PSHE, we have discussed what might cause someone to become homeless and the problems they face.
Next week in Year 4, we will be asking questions like 'What was the Blitz?' and 'Why would they want to target Hull?' as well as suggesting why people acted like they did in History.